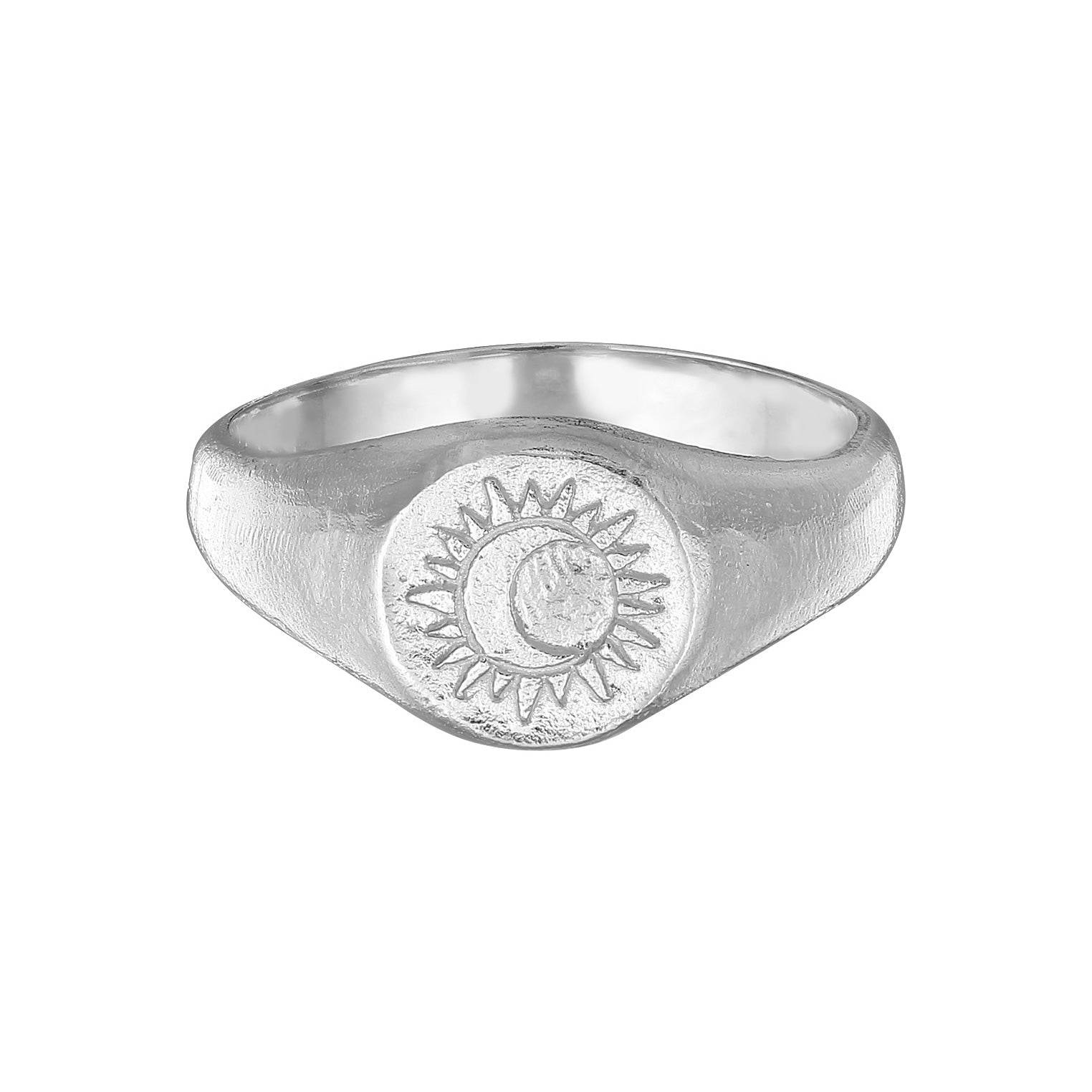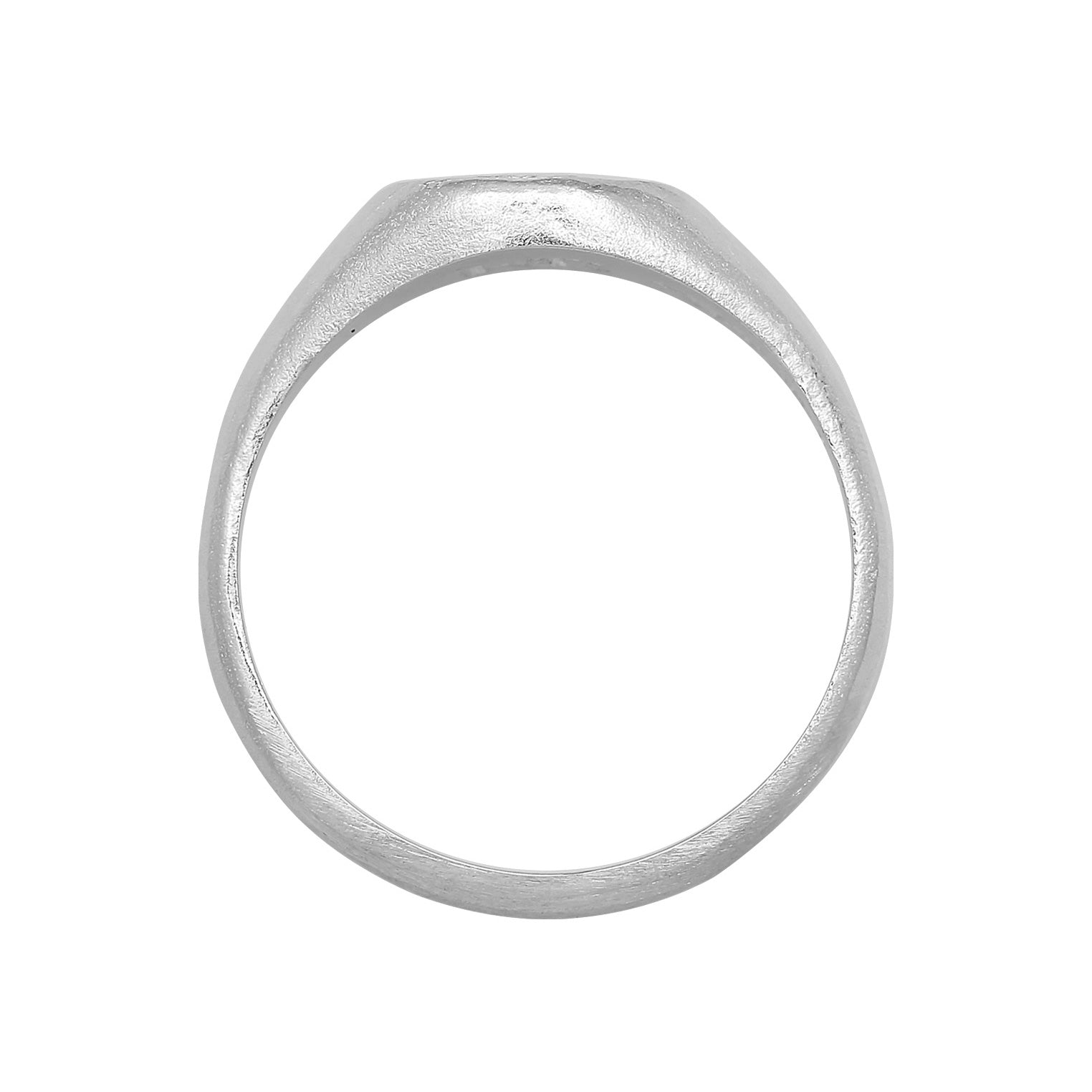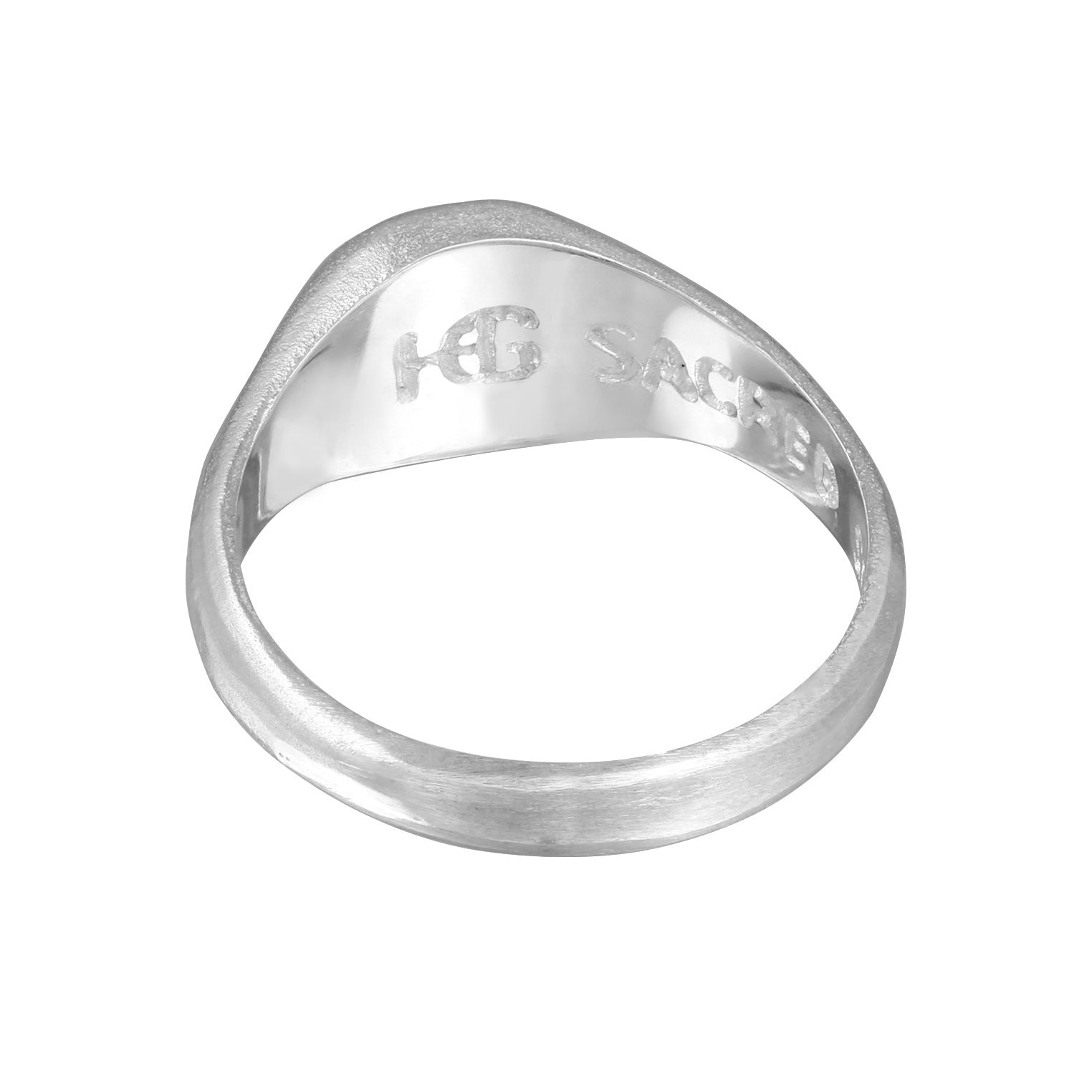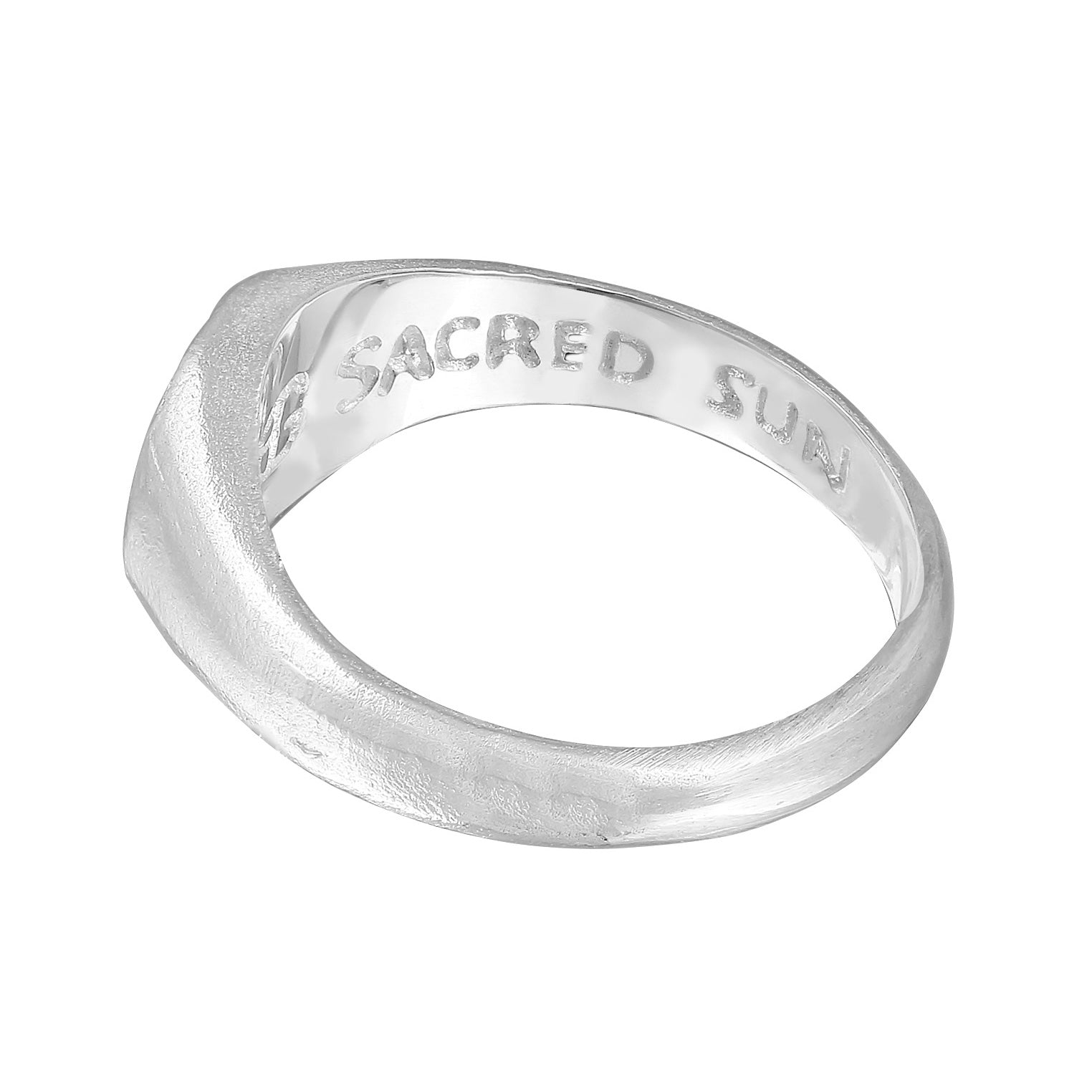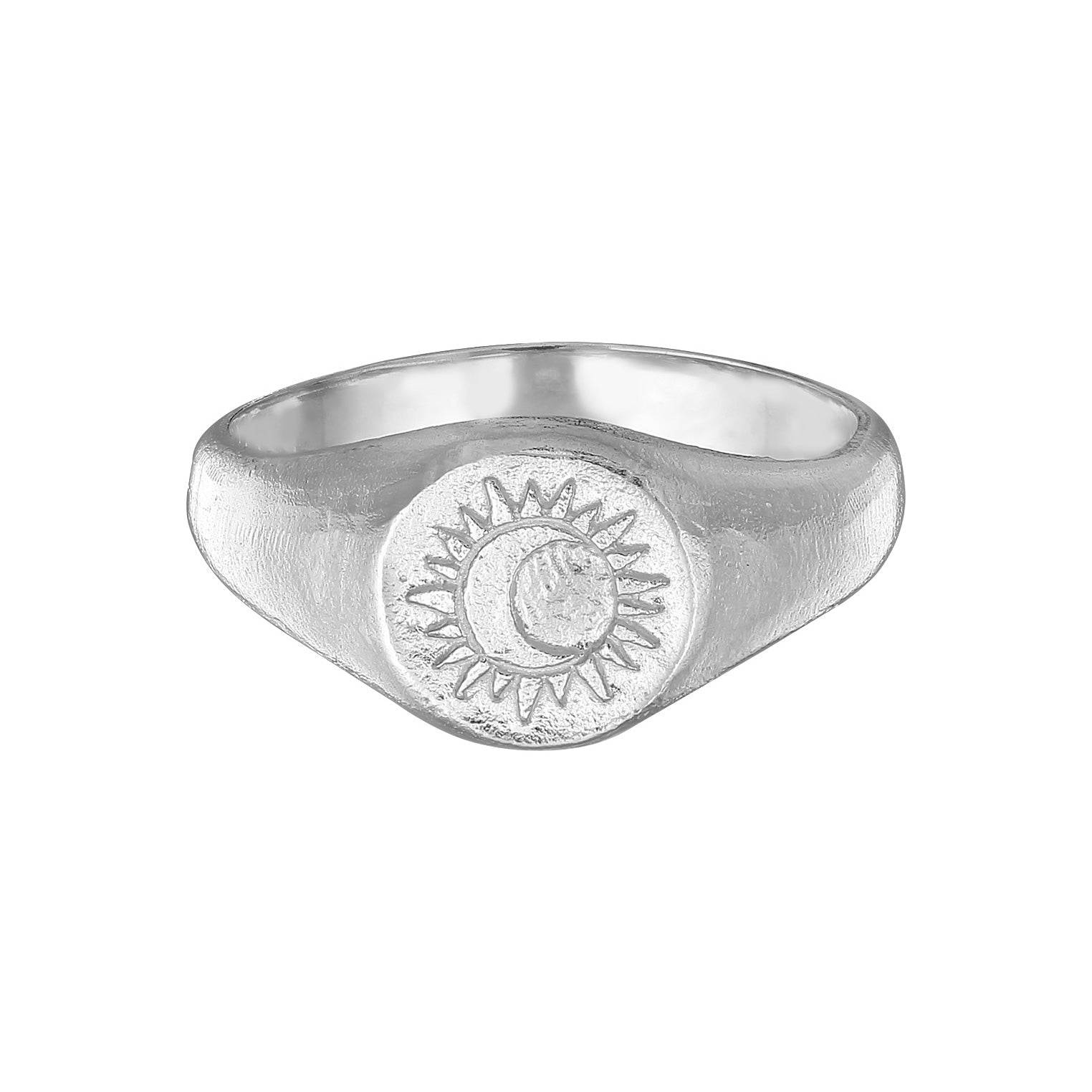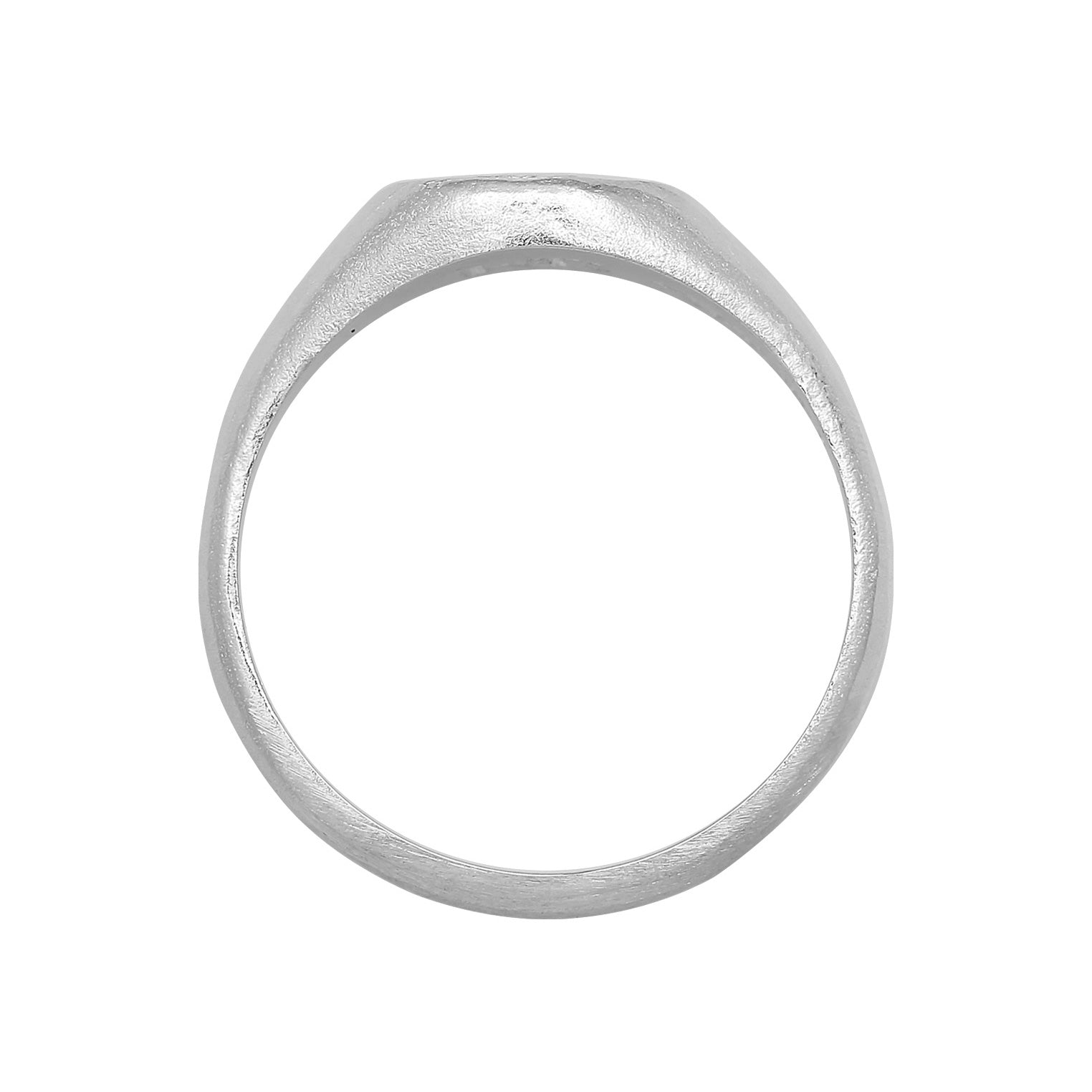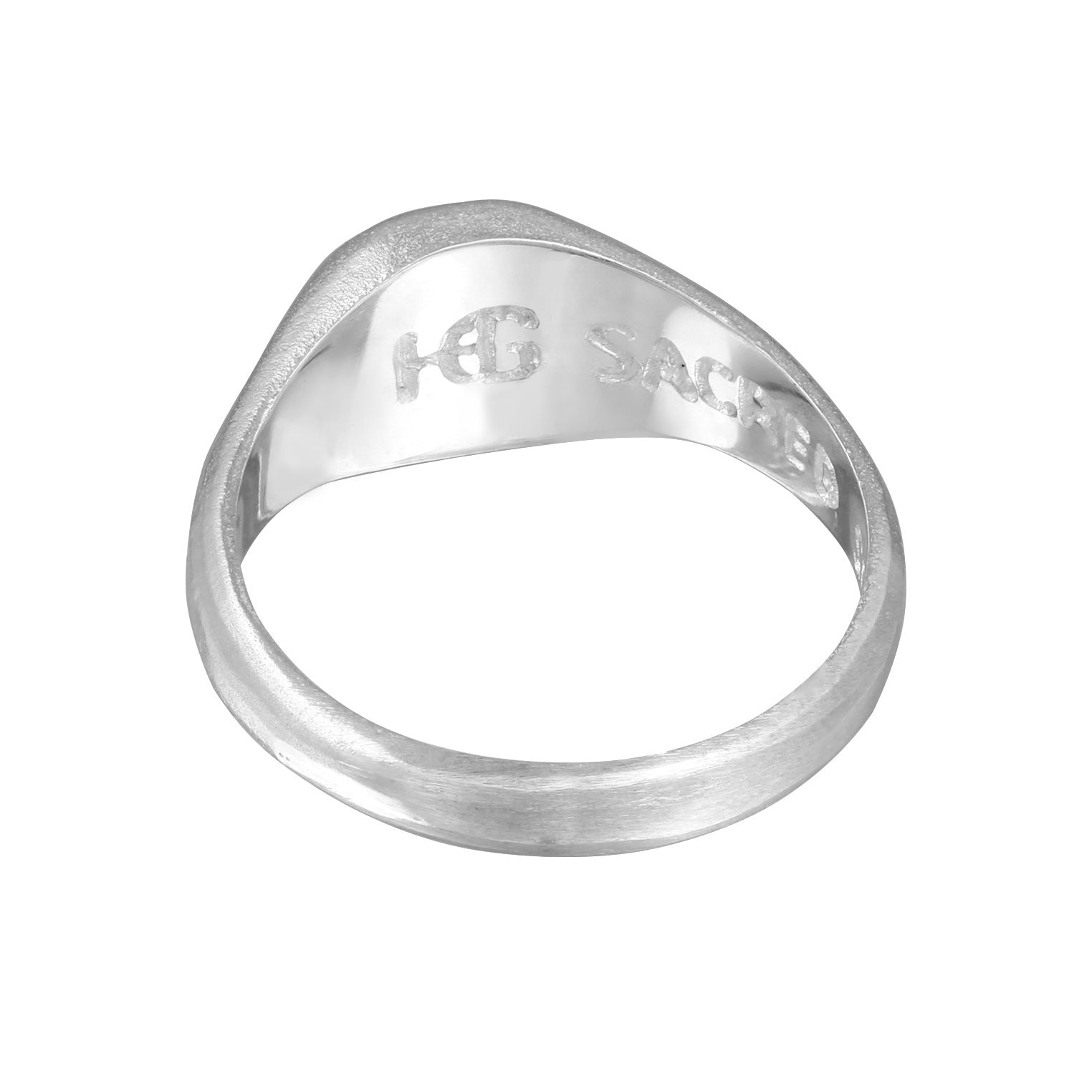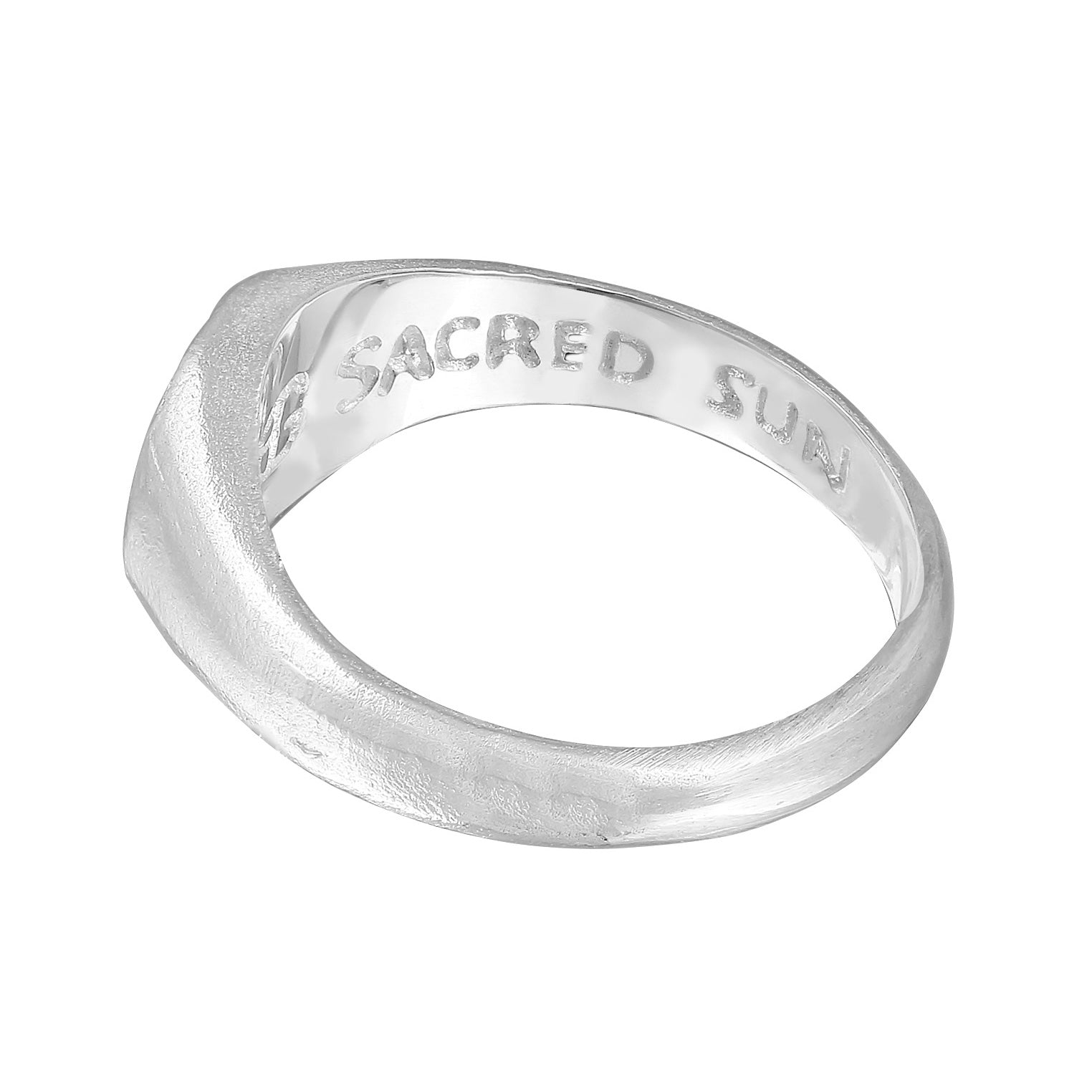 The Sacred Sun ring, silver
100% hangemachter Echtschmuck aus Bali
Über 50% recyceltes Sterling Silber oder Gelbgold
Schnelle klimaneutrale Lieferung
Gratis Geschenkbox aus 100% FSC Papier
Description

The Sacred Sun ring is made from 925 Sterling silver and features a detailed hand hammered rough sun and moon design. The sun and moon are a symbol for balancing opposites, bringing together the masculine and the feminine. The sun and moon are polar opposites from each other, but one cannot be without the other. The carving on the inside of the ring says "Sacred Sun". This is a beautiful friendship ring or a great ring for lovers.
Material & Maße
Schmuckpflege

Schmuck ist eines der wertvollsten Güter, die wir besitzen. Wir investieren Zeit und Geld in die Auswahl des perfekten Stücks, das zu unserem Stil passt. Doch mit der Zeit können selbst die schönsten Stücke ihren Glanz verlieren oder matt werden. Wenn Du ein paar einfache Tipps befolgst, kannst Du die Schönheit Deines Schmucks bewahren und dafür sorgen, dass er jahrelang wie neu aussieht.

Lagere Deinen Schmuck richtig
Der erste Schritt zur Erhaltung Deines Schmucks besteht darin, ihn richtig zu lagern. Bewahre Deinen Schmuck immer an einem trockenen Ort auf, der vor direktem Sonnenlicht geschützt ist. Feuchtigkeit kann einige Metalle, wie z. B. Silber, beschädigen, was zu einem Anlaufen führen kann. Du kannst kleine Ziplock-Beutel, Schmuckschatullen oder weiche Beutel verwenden, um Deine Schmuckstücke einzeln aufzubewahren.
Reinige Deinen Schmuck regelmäßig
Es ist sehr wichtig, Deinen Schmuck regelmäßig zu reinigen, damit er seinen Glanz und seine Leuchtkraft behält. Reinige Deinen Schmuck nach jedem Tragen mit einem weichen Tuch, um Schweiß, Schmutz oder Öl zu entfernen, die sich darauf angesammelt haben. Für eine gründlichere Reinigung kannst Du eine milde Seifenlösung und eine weiche Bürste verwenden, um den Schmuck sanft abzuschrubben. Spüle den Schmuck gründlich ab und trockne ihn mit einem weichen Tuch, bevor Du ihn aufbewahrst.
Vermeide den Kontakt mit Chemikalien.
Chemikalien wie Chlor, Parfüm, Haarspray und Make-up können einige Metalle und Edelsteine angreifen. Am besten legst Du Deinen Schmuck ab, bevor Du schwimmen oder duschen gehst, um den Kontakt mit Chlor und anderen Chemikalien zu vermeiden.
Nimm Deinen Schmuck vor körperlicher Betätigung ab
Es ist wichtig, dass Du Deinen Schmuck abnimmst, bevor Du dich körperlich betätigst. Aktivitäten wie Sport, Gartenarbeit oder Heimwerkerprojekte können Deinen Schmuck beschädigen, insbesondere zerbrechliche Stücke wie Ringe oder Armbänder.
Lasse Deinen Schmuck professionell reinigen und warten.
Manchmal kann unser Schmuck trotz aller Bemühungen seinen Glanz verlieren oder beschädigt werden. In solchen Fällen ist es am besten, wenn Du Deinen Schmuck zu einem professionellen Juwelier bringst, der ihn reinigen und warten kann. Er kann auch Reparaturen durchführen oder fehlende Teile Ihres Schmucks ersetzen.

Zusammenfassend lässt sich sagen, dass die Erhaltung der Schönheit Deines Schmucks einige Mühe und Sorgfalt erfordert. Wenn Du die oben genannten Tipps befolgst, kannst Du dafür sorgen, dass Dein Schmuck über Jahre hinweg in einem hervorragenden Zustand bleibt. Trage also Deine schönen Stücke mit Selbstvertrauen zur Schau!
100% HANDGEFERTIGT
All unsere Designs werden in unserem Studio designt, auf Papier gezeichnet, aus Wachs geschnitzt und dann von 925 Sterling Silber gefertigt. Unser Ziel ist es langlebigen Schmuck mit tieferem Sinn zu designen. Wir investieren viel Arbeit, Schweiss und Blut in unsere Designs.
ZUSAMMEN FÜR UNSEREN PLANETEN
NACHHALTIGKEIT LEBEN
Seit 2019 sind wir zu 100% plastikfrei! All unsere Schmuck Boxen und Verpackungsmaterialien sind aus recyceltem Papier gefertigt und wir halten unsere Lieferketten so kurz wie möglich - von uns zu euch. Haze & Glory Schmuck wird ausschliesslich in unserem eigenen Studio gefertigt. Wir folgen keinen saisonalen trends, stattdessen designen wir zeitlosen Schmuck, der für immer dein Begleiter sein soll.